24" Wall Ovens & Speed Oven.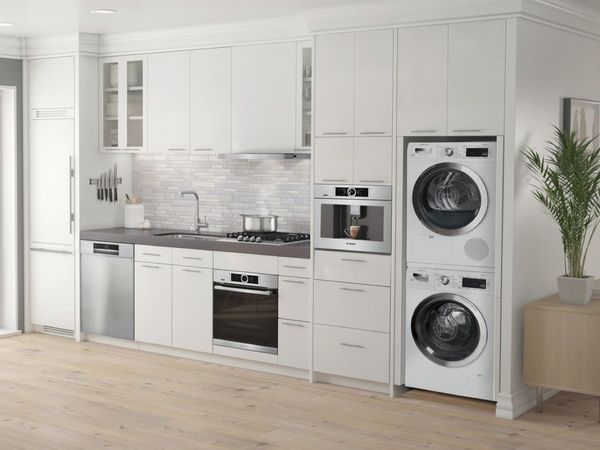 Fresh-baked bread tastes even more delicious in a small, cozy kitchen. Our small ovens offer impressive performance with multiple cooking modes and options like the eco-friendly DualClean® system or wireless connectivity – all the features you need to make life easier.
4 things to consider when choosing your small oven.
Built-in wall ovens let you be more flexible with your small space. Install them at chest height for added convenience.
Speed ovens combine the best qualities of oven and microwave – a great solution when space is limited.
All Bosch 24" wall ovens use genuine European convection to ensure more uniform baking results than conventional ovens.
Consider your needs and compare product features (e.g. full extension telescopic rack, programmable start times and wireless connectivity)
We've compiled some helpful tips to consider when choosing a 24" oven. Our small wall ovens feature different technologies and functions to suit your needs. Shop the range for details.
24" Gas, Electric & Induction Cooktops.
Our small space cooktops use different technologies in service of one common goal: helping you achieve perfectly tasty results. Their secret lies in high-precision heat control, whether through direct level selection on our induction cooktops or the heavy-duty knobs on our gas ranges.
Bosch small cooktops comply with the highest safety standards and include features such as the SpeedBoost® function for induction or automatic electronic re-ignition for gas.
5 things to consider when choosing your small cooktop.
With precise simmer control and even heating, gas ovens are a must to ensure well-timed meals when space is limited.
Cleaning in small kitchens should be a breeze – our gas cooktops with continuous grates and a one-piece stainless steel base make it so.
Need to free up a burner? The Bosch 24" induction cooktop can direct heat to one zone for extra-fast heating.
Even small induction cooktops offer incredible accuracy with up to 17 power levels per zone.
Our small electric cooktops give you four different power zones over just 24" – and they're easy to use and clean.
Besides different heating technologies, our 24" cooktops come with multiple features, from dual-stacked burners to wireless connectivity. We've compiled some helpful tips to consider when choosing a small-width cooktop. Shop our individual products for details.
18" Dishwashers.
Bosch dishwashers for small kitchens offer a large capacity and powerful dish cleaning in a convenient, slimline design.
Our 18" compact dishwashers are the perfect solution for small spaces. Like all Bosch dishwashers, they are famously quiet and offer outstanding performance and flexibility.
5 things to consider when purchasing your compact dishwasher.
All Bosch dishwashers are Energy Star® certified to help you save energy over time.
Different rack levels let you add more dishes to one wash cycle – even our 18" dishwashers provide three levels and nine rack positions.
Noise levels are always an important consideration. Look for a decibel range from 40 to 50 dB for quiet operation.
Get an overview of new dishwashing technologies, from leak detection to extra hygienic programs for special needs.
If you're not sure whether to choose a 18" or 24" dishwasher, factor in the number of dishes or glasses you go through on a regular basis.
We make our small dishwashers with either front or top controls. Top controls permit a seamless fit with your cabinetry while front controls let you easily check the status of your dishes. Whichever style you choose, you'll always enjoy superior performance and silence.
We compiled some tips to keep in mind when choosing an apartment size dishwasher. Shop our individual products for details.
24" Fridges & Freezers.
Finding the right small fridge is a top priority when space is limited. Bosch 24" fridge freezers provide smart solutions and generous storage for small kitchen spaces and apartments. Select an option in stainless steel, white or black to find just the right match. The fully flush installation brings clean lines to your kitchen and helps make your small space seem bigger.
4 essential tips for your small refrigerator freezer.
Keeping fruits and veggies fresh for longer is always a challenge. Look for small fridges with special stay-fresh technologies such as MultiAirFlow™.
Defrosting your small freezer should be a thing of the past thanks to new technologies such as NoFrost.
Look for small fridges that allow you to select and control the internal temperature to adjust for varying needs and seasons.
Features like hidden hinges and reversible doors will allow you to achieve a nearly flush installation or next-to-wall placement.
With small fridges, simple solutions can go a long way. From LED lighting to full-width glass shelves for bright, spacious storage, our apartment size fridges are designed to help you maximize space. We compiled four helpful hints and three essential technologies when choosing an apartment size fridge freezer. Shop our individual products for details.
24" Washers and Dryers.
Bosch 24" washer dryer combos are ideal for small spaces – whether you want a stackable pair or a side-by-side duo or another creative option. Plus, you only need one electrical outlet, since the washer plugs into the dryer.
Despite their width, our small washer and dryer models can still handle large loads. Compact Bosch washers offer a capacity of up to 2.2 cubic feet – and Bosch dryers up to 4 cubic feet.
5 things to know about small washers and dryers.
Look for compact washers with a wave-shaped drum to ensure powerful yet gentle care for your garments. Some models adjust drum rotation depending on the program.
If you have a washer in your apartment, leaks and water damage are a big concern. New technologies such as AquaStop® and AquaShield® stop leaks before they happen.
When space is limited, electrical outlets usually are too. With many of our compact washer dryer models, the washer plugs into the dryer, so you only need one outlet.
Compact and extra-gentle condensation dryers eliminate the need for venting or ducts, so you can save even more space.
A few compact dryers on the market are Energy Star® certified, guaranteeing energy-efficient operation for years to come.
When choosing your compact washer and dryer, there are many features and elements to consider. Different models not only offer super-quiet operation with minimal vibration but also gentle handling and added control over your laundry settings.
Our list of tips can help you decide which model is the best fit for your needs. Shop our individual laundry care products for more information.
Downdraft & Pull-Out Hoods.
When kitchen space is tight, make the most out of every inch with our small range hoods. Downdraft hoods free up precious overhead space – and lower out of sight when not in use. Pull-out hoods, on the other hand, help you maximize the work space on your countertops.
4 things to know about small kitchen hoods.
Downdraft hoods occupy minimal space; though subject to food spills, most models are easy to clean.
Downdraft hoods are also ideal for kitchen islands or cooktops installed far from walls.
Aluminum mesh filters for Bosch pull-out hoods are dishwasher-safe for easy cleaning.
Our pull-out hoods feature built-in illumination; replace the front panel with your cabinetry material for flawless integration.
In a tiny kitchen, you want a small hood that provides good ventilation while being low on noise. Downdraft and pull-out hoods each come with their own advantages. We compiled some helpful hints when choosing a range hood for a small kitchen. Shop our individual products for details.
Built-in Coffee Machine.
Built-in coffee machines provide a luxurious coffee experience straight out of the wall. They also help save counter space in your small kitchen and ensure quick maintenance and addition of beans.
For the full barista experience, the built-in coffee machines uses sensors to measure the ground coffee after each cycle, and different settings can be used for light or dark brews. For cappucino lovers, the coffee machine offers simple frontal access to a stainless steel insulated 17 oz. (0.5L) milk container.
6 reasons to choose a built-in coffee machine.
Store up to eight different beverages for quick and easy preparation of your favorite beverage.
Whether you prefer whole beans or pre-ground coffee, the unit works equally well with both. Two separate containers handle different coffee grinds.
You control the amount of coffee used to brew each cup, the volume of the brew and the coarseness of the grind.
Enjoy automatic cleaning, milk steam rinsing and descaling.
Durable, SilentCeramic Drive Grinding System ensures consistent grinding results.
You can manage and customize multiple beverage requests in the Home Connect app.
Pondering whether to choose a built-in coffee machine for your small kitchen? Check out our list of reasons why built-in is probably a better fit. Shop our product for further details.
Big Wins for Small Space Appliances
Bosch 24" stainless steel and glass door refrigerators have been recognized by the U.S. Environmental Protection Agency (EPA) with the 2016 ENERGY STAR® Emerging Technology Award. The Emerging Technology Award is given annually to innovative technologies that meet rigorous performance criteria to reduce energy use and lower greenhouse gas emissions, without sacrificing features or functionality.
Download the Bosch Kitchen Experience and Design Guide
Our Design Guide lets you learn more about kitchen design trends, get interior design advice from leading architects and find out how the Bosch philosophy can be applied in your kitchen.
We also share tips on how to integrate our appliances as well as technology details and installation specs.
Ready to start planning your small kitchen? Check out our design ideas for small spaces and also get general planning tips as well as real-life inspiration.