back
Feb 20 2019
New Bosch Technologies Simplify the Cooking Process from Start to Finish
Complete 2019 Kitchen Portfolio Unveiled at 2019 International Builder Show in Las Vegas, NV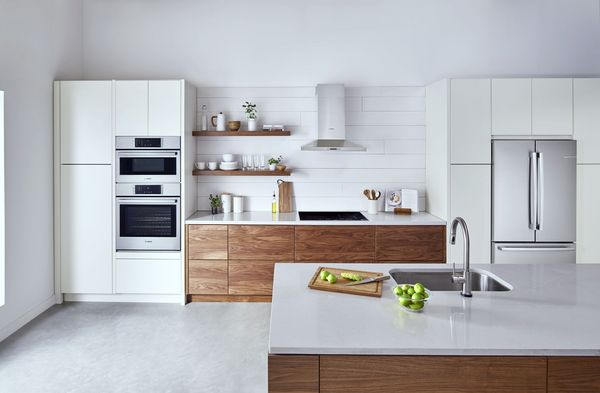 New Bosch Technologies Simplify the Cooking Process from Start to Finish
Complete 2019 Kitchen Portfolio Unveiled at 2019 International Builder Show in Las Vegas, NV
• Bosch home appliances is building on its leadership in the cooking space with new, consumer-driven product solutions to its industry-leading kitchen portfolio.
• Featuring connected capabilities, industry-first innovations and timeless designs, the 2019 cooking introductions were inspired by and invented for consumers.
IRVINE, Calif. (Feb. 20, 2019) – Bosch home appliances, the leader in quality, premium appliances, is taking its commitment to making mealtime more enjoyable to the next level with the introduction of new cooktops, slide-in ranges, wall ovens and ventilation hoods to its highly-regarded cooking line. From connected capabilities to improved functionality through industry-first technologies and more timeless designs that are built to last, the cooking appliances are packed with new quality performance features designed to simplify everyday life in the kitchen.
Alongside an unprecedented new refrigeration portfolio and advanced dishwasher drying technologies, the new consumer-driven cooking innovations are on display for the first time in the Bosch booth (#C3830) at the 2019 International Builders' Show in Las Vegas, NV, from Feb. 19-21, 2019.
"This is a monumental year for Bosch as we unveil new introductions across our kitchen portfolio, all designed to make everyday life a little easier, especially during mealtime," said Anja Prescher, Director of Brand Marketing for Bosch home appliances. "Not only are we making it easier to store and preserve your favorite ingredients, but we've also found new ways to simplify the cooking process, and clean up afterwards, too. From start to finish, we've reimagined what it takes to craft the perfect meal, and we couldn't be prouder of the industry-leading portfolio it has resulted in."
Always putting the consumer at the heart of its product development, the new cooking innovations from Bosch were thoughtfully designed to address three important aspects of creating the perfect meal: connected appliances for enhanced use, improved functionality for greater performance and timeless design options for seamless integration into any kitchen design.
Simply Connected
• Connected Induction Cooktops, Hoods and Wall Ovens: Bosch believes technology is best when it is simple to use. In 2019, select Bosch Induction Cooktops, Chimney Hoods and Wall Ovens will now feature Home Connect™ for greater peace of mind, more convenient use and an enhanced user experience, all of which will help empower users to easily master their day. Bosch Induction Cooktops and Wall Hoods with Home Connect allow users to sync their cooktop with their hood for automatic deployment when the cooktop is turned on. The cooktop's integration with the Home Connect app also allows users to check if their cooktop is still on remotely, and even receive notifications when their meal is ready. As well, Bosch Wall Ovens with Home Connect are designed to enable users to get dinner on the table sooner—whether it be through the
ability to preheat the oven remotely, quickly find new recipe inspiration, or monitor the internal temperature of their favorite roast while completing other household tasks.
Simple Solutions for Perfect Results
• Gas Cooktops with FlameSelect®: The 2019 Bosch 800 and Benchmark® Series Gas Cooktop models will include new features that will help improve cooking precision, cleanability and overall functionality. The new gas cooktops feature five burners equipped with FlameSelect, an industry-first step valve technology designed to offer the benefit of gas cooking combined with the comfort and precision of an electric or induction cooktop. Through nine, pre-defined levels of precise power selection, the new FlameSelect burners are engineered to improve temperature control while cooking, without the need to check the height of the flame, for the perfect results every time.
Sleek, Timeless Designs
• Expanded Black Stainless Steel Kitchen Suite: Capitalizing on the kitchen design trend toward a more sleek and polished aesthetic while still maintaining power and functionality, Bosch is introducing timeless designs across its cooking line, such as new flat-fit and gas-on-glass surface options for Gas Cooktops with FlameSelect and more finish options to choose from. In 2019, Bosch is continuing to expand its Black Stainless Steel Kitchen Suite with new slide-in ranges and wall hood options featuring its unique material that helps guard against fingerprints and scratches. The new 800 Series Black Stainless Steel Slide-In Ranges will be available with three different cooktop options—gas, electric, and induction—to meet a variety of individual lifestyle needs. When paired with new Pyramid Chimney Wall Hoods or other matching appliances in the complete Black Stainless Steel Kitchen Suite, Bosch is making it easier than ever to have a seamless, integrated and contemporary look with one of the hottest new design finishes and a quality that is designed to last for years to come.
The new cooking innovations will be available starting in Q2 2019 and continue throughout the year. The complete 2019 Bosch kitchen portfolio is on display at the Bosch booth (#C3830) at IBS 2019. For more on Bosch home appliances, visit www.bosch-home.com/us, or connect with Bosch on Facebook (facebook.com/BoschAppliances), Twitter (@BoschHomeUS) or Instagram (@BoschHomeUS).