The all-new FarmFresh System™.
Introducing the revolutionary, new FarmFresh System™, with four innovative freshness technologies designed to work together to keep your food fresher, longer. Enjoy less food waste, and more thoughtful design. Available exclusively on the new Bosch counter-depth French door bottom mount refrigeration collection.
Timeless design for a sleek look.
Bosch built-in refrigerators are available in French door, bottom freezer and custom panel options. Each offers beautiful LED lighting, dual evaporators which keep your food fresh and are ENERGY STAR® qualified.
True counter-depth for a built-in look.
When purchasing a new freestanding refrigerator, you can select either a counter-depth or a standard-depth refrigerator; but what's the difference? The new Bosch counter-depth refrigerators sit flush with the countertop, feature hidden hinges, and discreet tucked away feet, all to give you a true built-in look and feel. Whereas, standard depth refrigerators stick out beyond the counter top anywhere from 3-6".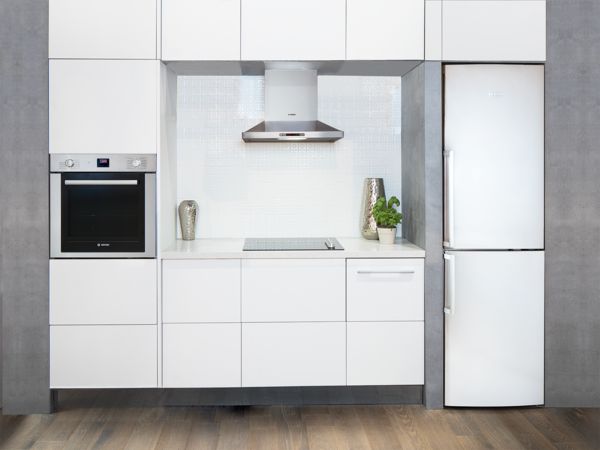 Small spaces, big potential.
Whether you're a city dweller living in an urban condo, adding on a secondary kitchen, or looking to downsize, our 24" small space appliances bring a premium feel without sacrificing on quality.
Find your perfect water filter replacement.
Find the perfect Bosch water filter replacement cartridge for your refrigerator in one easy step. All you need is your refrigerator model number to find your perfect water filter match.
Plan your kitchen remodel.
The kitchen is more than a place to cook. It's where we gather, share, create and savor all of life's moments. Make it yours with the timeless design of Bosch home appliances. Click below to discover the inspiration and information you need to get started on your new kitchen or remodel today.
Connected refrigerators, powered by Home Connect™
The Home Connect™ app allows you to remotely monitor and control your Bosch refrigerator from your smartphone or tablet. Control the temperature, adjust lighting, and remotely monitor—wherever you are,* for ultimate convenience. Connected refrigerators from Bosch are designed to give you peace of mind, customization, and simplification.
*Connectivity and speed varies based on network and Wi-Fi levels.
Designed for quality. Invented for life.
Quality that goes beyond material. Bosch refrigerators are designed to make your life easier, more beautiful, and ever fresh. From the tempered glass used in the 24" glass-door refrigerators, to the LED lighting and sleek transparent door bins in the built-in refrigertors, high quality materials are selected to build each Bosch refrigerator.
Built-in refrigeration accessory guide
Click below to view the built-in refrigeration accessories guide, outlining the recommended accessories for your Bosch built-in refrigerator. All accessories can be purchased by clicking the 'Accessories' link along the top of the page.