Timeless design for a sleek built-in look.
Bosch built-in refrigerators are available in French door, bottom freezer and custom panel options. Each offers beautiful LED lighting, dual evaporators which keep your food fresh and are ENERGY STAR® qualified.
The new definition of cool.
Bosch offers refrigerators in a variety of sizes and styles to integrate into your kitchen design. From our stylish counter-depth French door refrigerator, to our small, space-friendly 24" refrigerator with bottom freezer, Bosch has a solution for everyone.
A refrigerator that notifies you when the door is left open.
Your Bosch connected refrigerator (Model: B09IB81NSP) can notify you on your smartphone or tablet if the temperature increases, in case the door didn't quite close all the way.
Counter-depth design for small spaces.
Bosch 24" wide counter-depth refrigerators are designed to deliver a clean, integrated, built-in look in your kitchen. With their taller height, they seamlessly fill the gap left between standard-height counter-depth refrigerators and standard cabinetry. At only 24" wide, these slim units are ideal for compact kitchen layouts in lofts, condos and cottages. They also make a great second refrigerator in a bar.
Because shopping is tough enough, putting things into our fridges is really easy.
Seamlessly integrate your Bosch built-in refrigerator by matching it to your kitchen's custom cabinetry. The unique design of the OptiFlex® hinge allows for a fully flush installation bringing a new level of sophistication to your kitchen. The refrigerator and freezer sections are cooled with separate compressors and evaporators to ensure accurate temperature control and fresher food while sidewall LED lighting brightens the interior for easy viewing.
Your guide to built-in refrigeration accessories.
Click below to view the built-in refrigeration accessories guide, outlining the recommended accessories for your Bosch built-in refrigerator. All accessories can be purchased by clicking the 'Accessories' link along the top of the page.
Fresh fruit & vegetables, days later.
At Bosch we know about maintaining the right balance of temperature and humidity for your food. VitaFresh® technology maintains the optimal temperature and humidity levels automatically without making you guess the right settings for your produce, allowing it to stay fresher, longer. VitaFresh® drawers provide a no-fuss solution to the challenge of optimal food storage.
Bosch design. Bosch quality.
From the tempered glass used for the glass-door refrigerators, to the LED Lighting and sleek transparent door bins, high quality materials are used to build every Bosch refrigerator.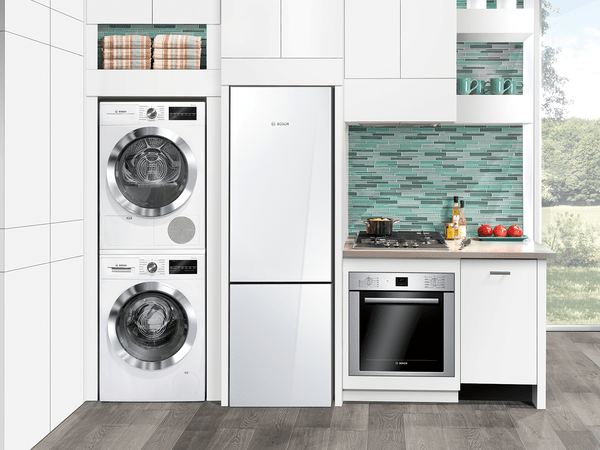 Designed with you in mind.
Bosch offers freestanding and specialty refrigerators in a variety of sizes and styles to integrate into any kitchen design. From integrating your refrigerator with our custom panel doors to optimizing a small space with our 24" bottom freezer refrigerator or our new sleek 24" glass-door refrigerators, Bosch provides multiple cooling options for a variety of designs.
Beautifully polished style meets impeccable design.
Bosch freestanding French door refrigerators present uninterrupted stainless steel luxury. Available in standard-depth and counter-depth options, these refrigerators feature impressive capacity, convenient spill-proof glass shelves and exceptionally bright LED lighting for easy viewing.
Explore design ideas for your kitchen remodel.
Looking to remodel your kitchen? Get started today and browse an array of kitchen designs, perfectly curated to inspire your kitchen refresh or remodel.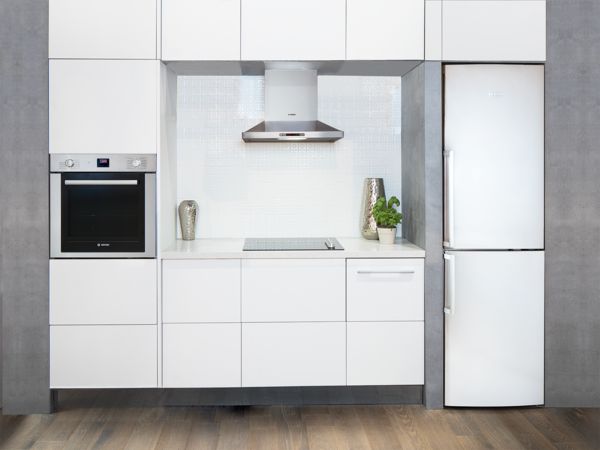 Small Spaces, Big Potential.
Whether you're a city dweller living in an urban condo, adding on a secondary kitchen, or looking to downsize, our 24" small space appliances bring a premium feel without sacrificing on quality.