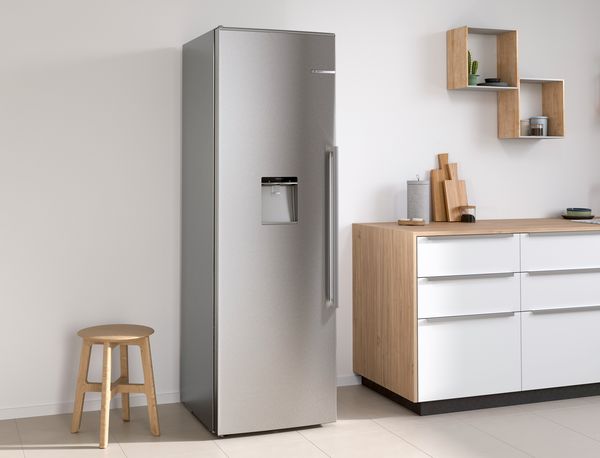 Freestanding fridges without freezer section: Just the right model for you.
Our freestanding fridges without freezer section give you even more space to store plenty of fresh food. Whether you're a professional chef or simply enjoy home-made cooking, you'll find a model to suit your needs. And because they're freestanding, you can put them where you want – even outside the kitchen. By the way, a fridge without a freezer section uses up to 30% less energy.
Freestanding fridges with freezer section: Because we all love ice cream.
With these freestanding fridges you can store frozen food in a integrated freezer compartment. The cooling section keeps food fresh and is easy to use thanks to the flexible loading capacity. You can place freestanding fridges anywhere you like.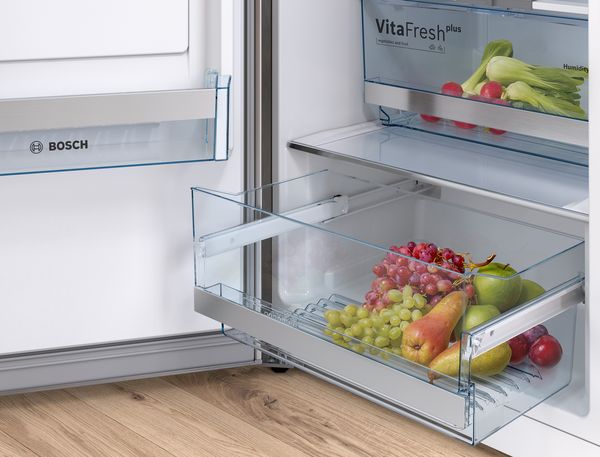 Because shopping is tough enough, putting things into our fridges is really easy.
With Bosch, it's easy to keep the fridge tidy. You can see where all your food is, and thanks to the fully extending telescopic rails, it's easy to add and remove food. With the pull-out glass shelves and dividing shelf areas, you can see and reach everything any time. The bottle holder allows cans and bottles to be stored safely and creates extra space in the fridge door. So getting a drink from the fridge after work is almost as relaxing as drinking it.