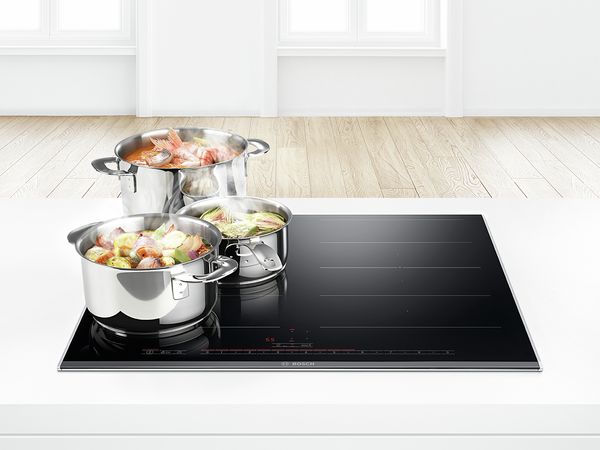 Pots and Pans for Induction Cooking
Pots and pans must be made from a magnetic material to work with induction cooktops, which induces electrons in the magnetic material to move thus creating heat for cooking.
Materials that work: cast-iron, steel, magnetic stainless steel, ceramic-clad and enameled pots with an iron pan hidden in the ceramic layer.
Materials that don't work: aluminum, glass, and copper pans don't work unless they're made with a layer of magnetic material on the bottom.
An easy test – if a magnet sticks to the bottom of your pan, it can be used on an induction cooktop.
Induction cooktops feature safe, efficient cooking in that only the pot heats up. The burner itself doesn't heat up much except from contact with a hot pot so there's less risk of burning yourself.
Visit the Bosch Accessories Store to browse pots and pans made specifically for induction cooking.