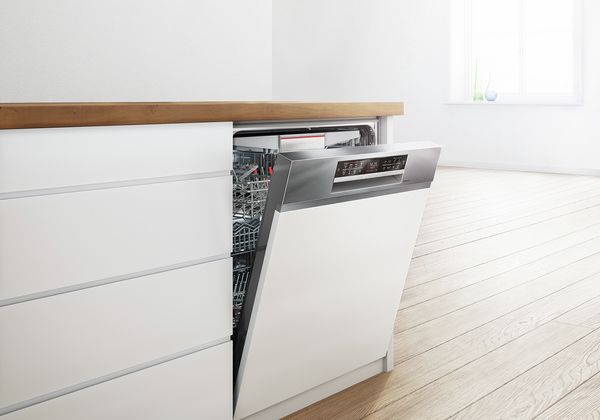 Use the Bosch dishwasher cleaner a few times a year to remove greasy residues. Simply add one box of cleaner to the bottom of your empty dishwasher and run the hottest, longest cycle.
Descaling your dishwasher and how to do it
To remove hard water deposits and limescale buildup, use the Bosch descaler a few times a year. Simply start the longest, hottest wash cycle on an empty dishwasher (don't add detergent). After 30 minutes add one box of descaler to the bottom of your dishwasher and let the wash cycle continue. Once that cycle has finished, run another wash cycle.
How often should I clean my dishwasher?
The filter should be cleaned every 3-6 months, depending on usage. It can be found at the bottom of your dishwasher. Simply remove it and remove debris by running it under water with soap and a soft brush. To learn more, view our 'How to Clean Your Dishwasher Filter' video on our How-to Video page
Additional notes on cleaning the dishwasher
Also make sure the spray arms are clean and not clogged. Just run it under water to see if any of the holes are blocked. If they are, use a toothpick to loosen any debris caught in the holes. To learn more, view our 'How to Clean Spray Arms' video on our How-to Video page
To clean the exterior, use a damp cloth to wipe the door seals. Wash stainless steel with lukewarm water and mild soap using a soft cloth, wiping in the direction of the steel grain. Then condition with the Bosch stainless steel conditioner. Do not use the conditioner on logos, control markings and black steel. To learn more, view our 'How to Clean Stainless Steel' video on our How-to Video page